F-150 Sleeper
705 Horsepower For Less Than $47,000!
Get a Brand New 2024 Ford F-150 with a Supercharged 5.0L V8 for only $46,998!
That price includes the truck, the supercharger, installation, and warranty!*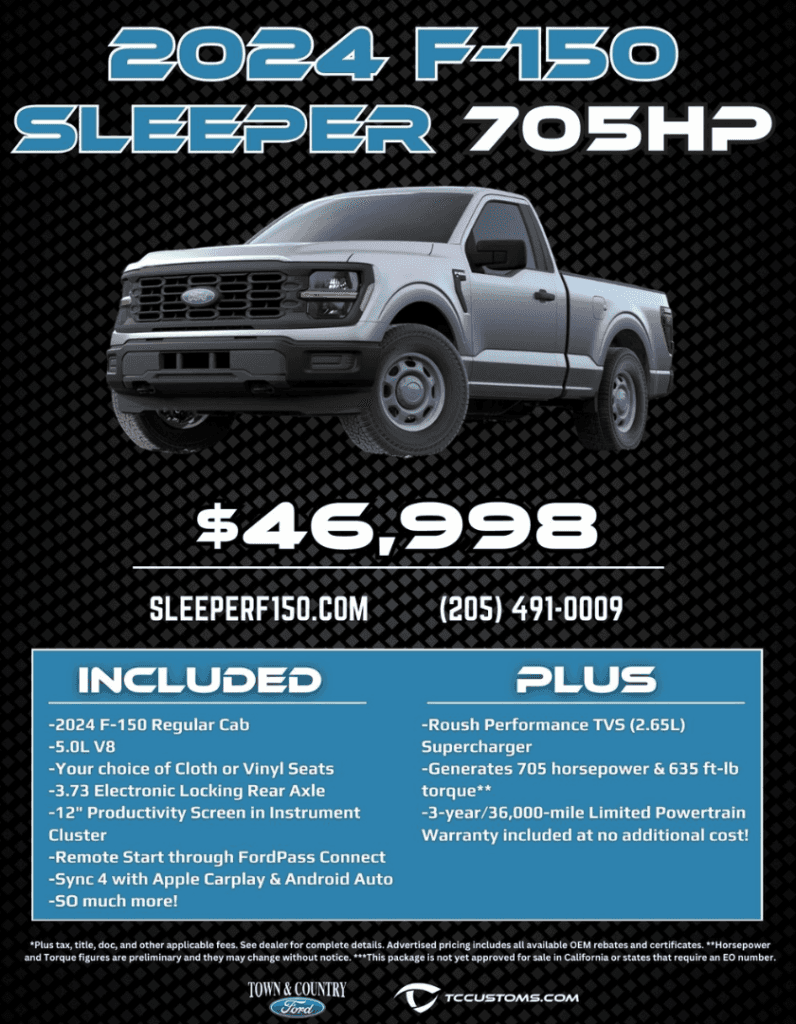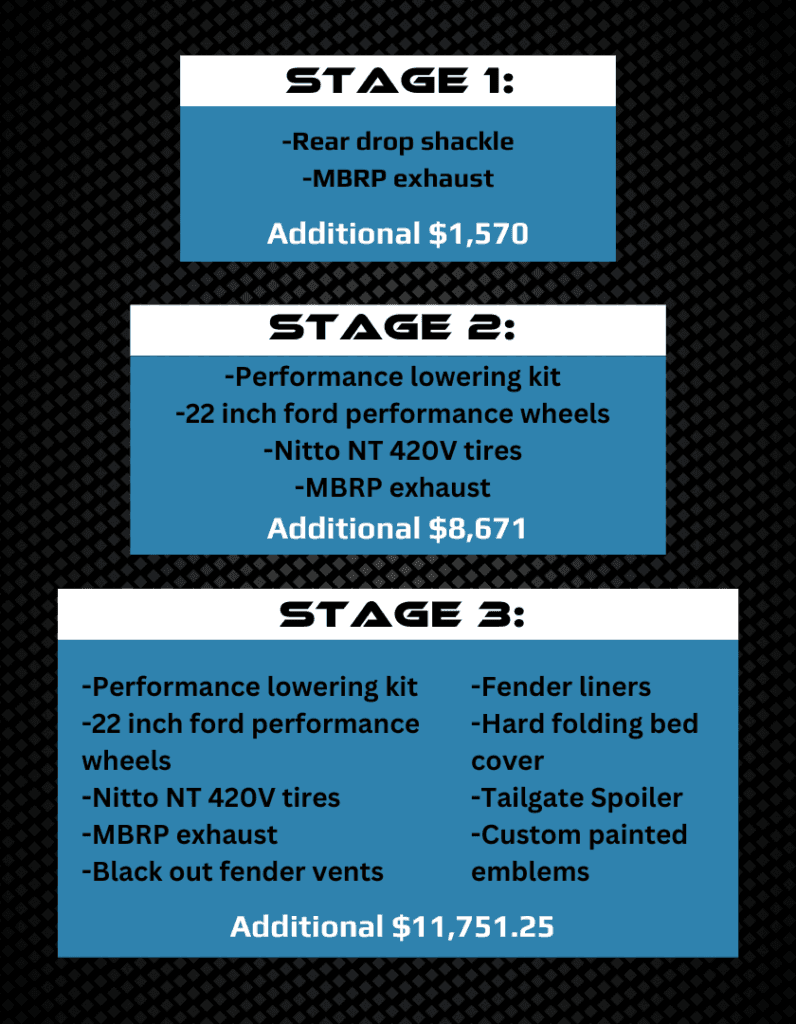 Here are some frequently asked questions…
VEHICLE
Q: What's included in the $46,998 F-150 package?
A: You will get a 2024 Ford F-150 Regular Cab 2-wheel drive with a 5.0L V8. With no other options. You will also get a ROUSH Supercharger and installation. That brings the horsepower to 705 horsepower.
Q: I live in California. Can I take advantage of the F-150 Sleeper Promotion?
A: Yes. The Roush Supercharger is expected to become 50-state legal for the 2024 model!
Q: What is the 0-60 time for this truck? (i.e. How fast is the truck?)
A: We have been so busy fulfilling customers orders that we have not had a chance to properly test the 0-60, 1/4 mile, etc. But trust us when we say this truck is FAST!
Q: Are your horsepower numbers "Wheel" horsepower?
A: The horsepower and torque numbers are rated at the Crankshaft. These figures are based on the claims of the supercharger manufacturer. Please keep in mind that Horsepower numbers can vary due to Exterior Temperature, Humidity, Quality of Fuel, and many other factors.
Q: Do you have the vehicles already upgraded, so I can come and drive one?
A: Due to the extreme popularity of our Sleeper F-150's, we have completely sold out of trucks that are on our lot. Almost every Sleeper F-150 coming in to our dealership is already spoken for. For that reason, it is difficult for us to guarantee the ability for a test drive.
Q: Does the supercharger increase towing capacity?
A: Adding a supercharger will increase your horsepower, but it will not increase your towing capacity. Town & Country Ford and TCcustoms does not make any official claims on what happens to the towing capacity of the vehicle. All of the Gross Combined Weight Ratings of the vehicle will likely stay in place.
OPTIONS
Q: How much is it to add 4×4?
A: For the 2024 Model Year, Ford is charging $5,015 extra to go from our "Sleeper Promotion vehicle" to a 4×4. So in this situation, the price would be $5,015 more than the promotion of $46,998. So the total would be $52,013 plus your taxes and fees.
Q: I have built out an F-150, but I need to know what my price would be with the supercharger. How can I calculate my pricing?
A: To find out a ROUGH estimate of the price for your custom order, you can add roughly $9,500 to the MSRP. That $9,500 price is for the Supercharger and Installation. If you need a comprehensive and exact price quote, please reach out to us.
Q: Can I upgrade to a Whipple Supercharger instead of the Roush?
A: Yes you can! The Whipple Stage 1 Supercharger (with warranty) will add $2,000 to the price of the truck.
Q: Why is there a difference in horsepower between the Roush Supercharger and the Whipple Supercharger?
A: Each supercharger is made differently. There is also a difference in the tune of the vehicle.
WARRANTY
Q: What is the warranty on the vehicle?
A: This truck will have a 3 year / 36,000 mile bumper to bumper warranty. It also has a 3 year / 36,000 mile powertrain warranty.
Q: I live pretty far away from you. What happens if I need to get this vehicle serviced close to me? Can my local dealer make repairs?
A: Yes! If you have an issue with something unrelated to the supercharger you can take it to any Ford Dealership for repairs. As an example, if your radio goes out, that obviously has nothing to do with the Supercharger and you can take it to any Ford Dealership for repairs. If you experience any issues with the Supercharger (which is VERY RARE), you can take it to one of HUNDREDS of Roush Certified Dealers across the United States.
PRICING
Q: Do you require a deposit to place an order for a Sleeper F-150?
A: Yes we do. We require a $2,000 non-refundable deposit to place the order. We require this for a few reasons. #1 we are using an allocation with Ford Motor Company to have this truck built EXACTLY like you want it. #2 We are going to be doing extensive modifications to the engine. #3 This tells us who is serious about getting this Sleeper F-150 promotion. By identifying the customers who are serious, we are able to get the trucks faster, and install the superchargers faster. In other words, this deposit allows for everyone to have a better customer experience.
Q: Why is the deposit NON-refundable?
A: The deposit is non-refundable for the same reasons mentioned in the previous question. We are using an allocation, and we are performing extensive modifications to the engine. But with that being said, we are not in the business of "keeping people's deposits". Our goal is to deliver you EXACTLY what you want, as quickly as possible. If for some reason the vehicle isn't exactly what you ordered, we will refund your deposit. If for some reason the vehicle comes in damaged, we will refund your deposit. The deposit is there to keep you from just "changing your mind". All of this helps us to take care of our customers as quickly as possible.
Q: If I give you the $2000 deposit to lock down the supercharger & truck, what happens if I decide I don't want to move forward when the truck comes in?
A: In this situation, you would likely not receive the deposit back. You are able to use that money towards any purchases within our dealership. (i.e. Parts, Service, Customization, or buying a completely different vehicle). The reason for this non-refundable deposit is because this is the only way to prioritize the serious customers. The money also goes towards the cost of the supercharger and the unique vehicle that we are ordering and/or reserving for you.
Q: Why doesn't my customized quote match up to the internet price on your site?
A: Please keep in mind that the advertised price does not include sales tax, title, and other fees.
Q: Do you accept A, X, Z, or D-Plan Pricing with this special?
A: Absolutely you can! If you qualify for Special Plan-Pricing from Ford Motor Company we are happy to accept it, and it will save you some money. But keep in mind that we are very aggressive with our Sleeper F-150 pricing up front. For that reason, the savings won't be substantial. If you would like a detailed price quote with Plan Pricing, please reach out to us.
FINANCING
Q: Can I finance through my own Credit Union?
A: Absolutely! We do not require you to finance through our lenders. However, not all lenders will recognize the cost of the supercharger in the Loan to Value Ratio. We use many lenders that recognize this option and this can help with approval and better interest rates.
Q: If I go with one of the remaining 2023 models, can I take advantage of the current financing rates that Ford is offering?
A: Absolutely! Any special rates that Ford is willing to give you are applicable with this special! With approved credit. See dealer for complete details.
Q: How do I know if I'm pre-approved for financing?
A: We do NOT require you to be pre-approved for financing prior to ordering the vehicle. Unless you have credit challenges, we recommend credit approval when the vehicle arrives at the dealership. If you are concerned about not being approved, reach out to us and we will gladly assist you with an optional pre-approval.
Q: What will my payment be?
A: The payment can vary depending on many different factors! Just a few of those factors are Interest Rate, Loan Term, Options that you select, Trade in value, Trade Payoff, Cash Down, and so many other factors. If you are concerned about the overall payment, feel free to play around with a payment calculator such as the one found here. https://www.calculator.net/auto-loan-calculator.html
TRADE INS
Q: Do you accept trade-in's for the F-150 Sleeper?
A: Yes we do!
Q: How can I find out what my trade is worth?
A: In almost every situation, the F-150 will need to be ordered from Ford Motor Company. For this reason, any valuation we estimate on your trade will be irrelevant when the F-150 actually shows up. In the meantime, we would recommend that you can estimate what your trade may be worth by plugging your trade in information into KBB.com.
SHIPPING
Q: How much is shipping?
A: We CAN ship the vehicle to your home. But shipping costs will vary.
Q: Can you arrange the shipping for me?
A: Yes we can. We have used ReadyLogistics in the past for certain customers and they have done a good job for us in the past. We feel comfortable recommending you to use them as well, but please know that Town & Country Ford and TCcustoms are not affiliated with ReadyLogistics at all. For that reason, we cannot be responsible for anything that happens during transportation.
Q: I would like to fly in and drive the vehicle back home. Can I do that?
A: Absolutely! Our dealership is a 22 minute drive from the Birmingham International Airport (BHM). We offer complimentary VIP pickup from this airport.
TIMEFRAME
Q: How long will it take for my F-150 order to arrive at the dealership?
A: That depends on a lot of different factors that Town & Country Ford has little control over. Once we place your order into Ford's system, you will get a confirmation email from Ford about the order. From there, Ford will keep you up to date with the timing of that vehicle's production date and arrival date.
Q: How long will it take for the supercharger to get installed on my truck?
A: Once the vehicle arrives at the dealership, we require you to finalize your paperwork before we add the supercharger to the truck. We will be installing superchargers in order that the customer completes their paperwork. Once the paperwork has been finalized, it will take roughly 2-4 weeks to get the supercharger installed. These times may vary depending on parts and overall demand for supercharger installs.
---
Contact Our Sales Team
If you are ready to place your $2,000 deposit and order your F-150 Sleeper, Click Here!
Due to Overwhelming Demand, fill out our form below to join our wait list.